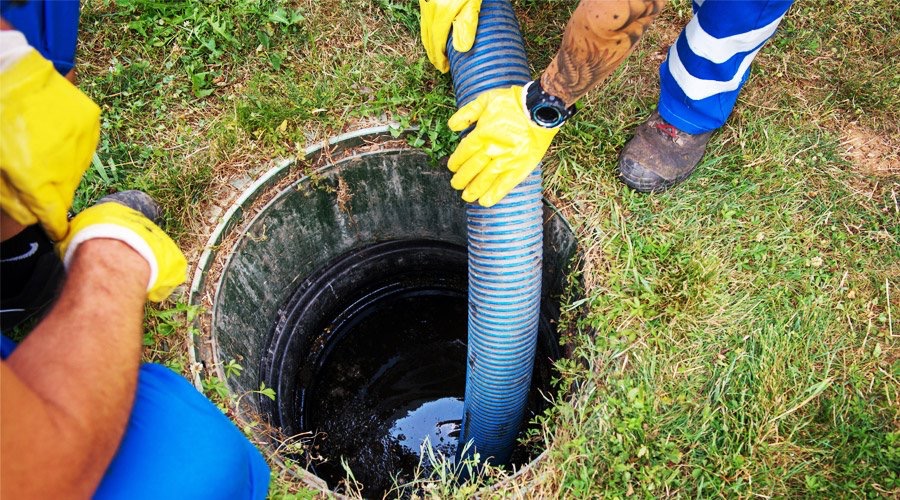 Safety
At all times, the technician's personal safety, as well as protection of the environment and the customer's property, shall receive the highest priority.
Generally, tanks should not be entered as they are a hazardous environment. If entry is required, appropriate safety measures and equipment consistent with OSHA requirements should be employed.
Accessing tanks
Tanks shall ONLY be pumped from/through the manhole/access port of each tank or tank compartment.
Tanks shall NOT be pumped from/through the observation port.
No liquids or solids are to be discharged into/through the outlet pipe.
Tank Cleaning
The liquid, solid and semi-solid material in a treatment tank is removed by a vacuum or centrifugal pump fitted with a hose which delivers the material to a truck-mounted, sealed tank.
Where necessary to break-up solids, back-washing with clean water or material of a similar nature already on board the pumper truck may be employed.
Another process that breaks up solids is the removal of a large portion of the material. Then, air is forcefully blown back into the liquid remaining in the tank. This thoroughly agitates and breaks up remaining solids. Finally, the loosened material is pumped out.
Mechanical means (scraping, raking, etc.) are NOT necessary but may be employed provided that appropriate safeguards are taken to prevent injury.
When backwashing or injecting air, care shall be taken NOT to fill/refill the tank to a level greater than 12″ below the elevation of the outlet pipe.
How clean is clean?
Tanks shall be deemed to be clean when all organic solids are removed and the total average liquid depth remaining in the tank is less than 1″.
Standard Services
Every pump-out shall include a visual inspection of the interior of the tank and its environs. The inspection shall include a determination regarding the presence of baffles and their condition as well as the physical condition of the treatment tank. Presence and condition of observation port(s) and manhole extension/riser shall also be reported.
Additives
PSMA has no position on the use of chemical or bacterial additives for treatment tanks as the research on these is inconclusive.
Local, State and Federal Laws and Regulations
At all times, and in all phases of operations, pumper businesses and equipment operators shall comply with all laws and regulations regarding the activities associated with onlot wastewater system maintenance and disposal of materials removed therefrom.
Reports
In the event that the technician observes conditions that indicate a tank or its components or any other components are not performing in a satisfactory manner, i.e., they are not performing as intended, are broken or missing, this information shall be reported in writing to the landowner. This report may be incorporated with the bill for services, a receipt for same or may be a separate document as selected by the pump out service provider. These observations are independent of an actual "PSMA/NOF Inspection" and do not rise to that level of intensity or specificity.
Where the municipality requires documentation of pump-out and tank and site conditions, the pumper shall not be prevented by the landowner from complying with municipal requirements. A copy of any report sent to the municipality shall also be provided to the landowner.
Revised 2004