PSMA FRANK SEARS MEMORIAL SCHOLARSHIP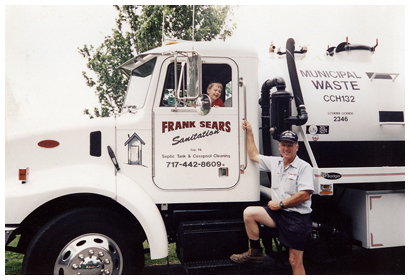 Frank Sears was a very active member of the Pennsylvania Septage Management Association (PSMA). He was born in Philadelphia and raised by foster parents in Parkesburg, PA. He graduated in 1954 from Scott High School in Coatesville and served in the US Army. Frank owned and operated his own septic business from 1968. In addition to running his own business, he was also employed by the former Lukens Steel Company and retired from that job in 1987.
Frank was also an active member of the Skerrett Masonic Lodge #343 F&AM of Cochranville, where he served twice as Worshipful Master. He was a member of the Consistory Valley of Reading, the Coatesville Royal Arch Chapter #267, the Continental Commandery #55 Knights Templar of Coatesville, the Goodwin Council #19 of Lancaster and a life member of the GAP VFW Post #7418.
Frank enjoyed go-kart racing and was an avid NASCAR fan. He was married to Marry L. (Pierce) Sears for 38 years.
In order to honor Frank Sears, the PSMA made this annual scholarship available to students who are employees or the child/grandchild of an employee of a PSMA member company. The organization will annually award a total of $1,000.00, in increments to be determined during the application process, to successful applicants.
Interested applicants must complete an application form and return it, with their letter of acceptance to the educational institution they are attending or plan to attend, to the PSMA office at the address below or by e-mail to director@psma.net.
The 2023 scholarship application is due by 5:00pm on May 31, 2023.  Award winner(s) will be selected by the Scholarship Committee on June 15, 2023 and notified by USPS.