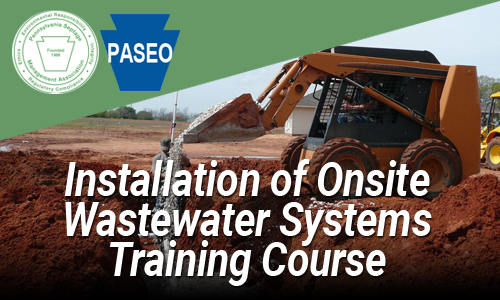 July 21-22, 2021; 8:30am-4:30pm
Doubletree Hotel, 101 Mall Blvd, Monroeville, PA 15146
Hotel Phone: (412) 373-7300; Hotel website
August 3-4, 2021; 8:30am-4:30pm
Hilton Conference Center, 100 Adams Ave, Scranton, PA 18503
Hotel Phone: (570) 343-3000; Hotel website
September 28-29, 2021; 8:30am-4:30pm
Holiday Inn Lansdale-Hatfield, 1750 Sumneytown Pk, Kulpsville, PA 19443
Hotel Phone: (215) 368-3800; Hotel website
PA DEP Training Course #12-0087; Total 12 SEO CEUs; 12 PSMA SR1 CEUs
Includes lunch on both days.
Cost: $295
PSMA and the Pennsylvania Association of Sewage Enforcement Officers (PASEO) developed this two-day course for the wastewater community. This course will educate installers in proper design and installation of septic systems so that systems operate effectively upon startup and are accessible for regular service over the life of the system. Topics covered will include: Industry Integrity, Installation Safety, Soils and Site Evaluation, Materials and Techniques, Installation Planning, Distribution Pressure and Gravity Systems, Tanks, Installation Piping, and Pumps & Controls. Successful completion will result in the individual being listed on DEP's website as having completed the installation course. The course is entirely classroom based. There is no test; however, there is homework between day 1 and day 2. View course outline.
The course registration is being managed by PASEO – you will be taken away from the PSMA website to register. Registration questions should be directed to PASEO (admin@pa-seo.org). Space is limited to the first 40 registrants per course.
This course is being offered in July (Monroeville, PA), August (Scranton, PA), and September (Lansdale, PA) – be sure you are registering for the correct course.
---
Thank you Installation Course sponsors: